Ralph Engelstad Arena Information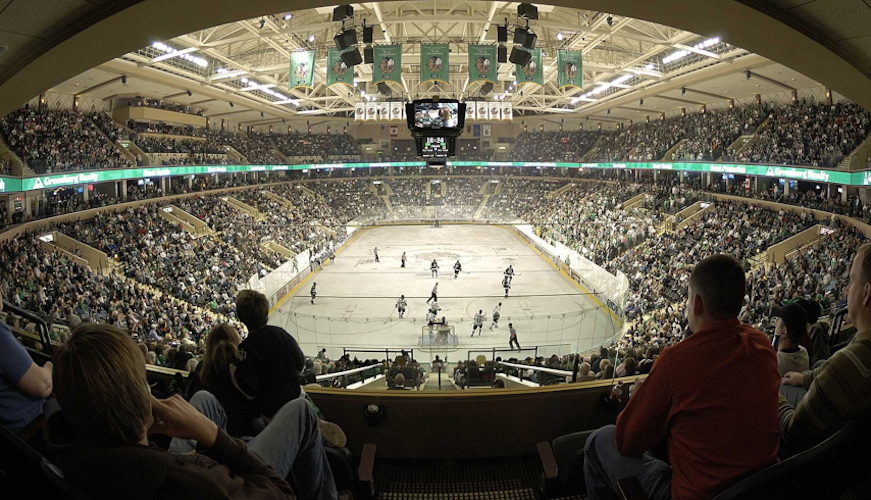 Ralph Engelstad Arena (REA), better known as The Ralph, is an indoor arena located on the University of North Dakota campus in Grand Forks, North Dakota. The arena is home to the UND men's ice hockey team and was the former home for the now-defunct North Dakota women's hockey team.
The 11,643 seat venue was built by controversial UND alumnus Ralph Engelstad, who had been embroiled in controversies over the years that may have cost him acclaim but has done little to keep fans away from the arena. The venue was opened on October 5, 2001, primarily for the campus' hockey teams, but also features select games for the UND men's and women's basketball until their later move to the adjacent Betty Engelstad Sioux Center.
The $104 million arena is considered the "Taj Mahal of hockey" due to a variety of events that come to the facility, including an annual circus and construction materials that are not used in most similar facilities including granite flooring and Cherry wood seating with leather upholstery. Escalators are available to bring spectators between levels while full-color LCDs keep you close to the action no matter where you are in the arena. Former NHL star Wayne Gretzky has even called the arena "one of the most beautiful buildings we have in North America."
Although the facility is located on UND's campus, the arena and land itself is owned by The Engelstad Family Foundation and is rented to UND each year for $1. The arrangement was made to keep final say and control over the facility within the Engelstad family.
Currently, the arena enjoys top marks including a 2015 certificate of excellence from Trip Advisor as one of the top-rated destinations in America. If you have never been, then you are missing out, so now's your chance to catch an event at REA.
Additional links for Ralph Engelstad Arena at University of North Dakota:
Ticket Policy:
Read ticket policies and important authenticity guarantees for any tickets purchased via this site.
Seating Map:
Check out the Ralph Engelstad Arena at University of North Dakota seating chart and view different seating options.
Parking Information:
Read more about parking at Ralph Engelstad Arena and driving to the venue.